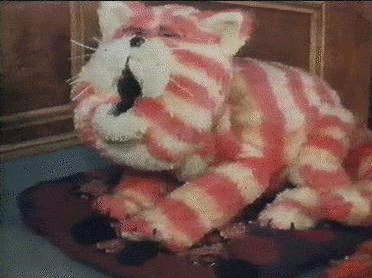 As a child I loved
Bagpuss
. I had only very vague memories of the programme but I remembered that I loved it!
I was reintroduced to Bagpuss a few years ago by Ruth of Journal of a Wise Woman as she too loved him. She had the DVD of all the episodes and one evening we had gone round for a meal and watched the episode about the
small soft Hamish
.
I have been collecting Bagpuss memorabilia for a number of years now - a furry pencil case, a ring binder, three pairs of socks, a hot water bottle cover/pyjama case with attached Charlie Mouse which sings the fix-it song, a cuddly Bagpuss sitting on a cushion which says "YAWN! I'm really quite a friendly old cat", a singing Charlie Mouse and some stickers which were the contents of Bagpuss crackers. Of course I have the DVD too.
Also some unnecessary Bagpuss/Radiohead anal knowledge for you: Thom Yorke (lead singer of Radiohead) is also into Bagpuss. He wanted Oliver Postgate (co-creator of Bagpuss) to direct the video of their single 'There There'. As Oliver is in his 80s and retired, he declined. Thom has tried to get his son Noah into Bagpuss with no luck. Maybe he'll have more luck with his daughter Agnes Mair.
I have even created the term "
Bagposian
" which means of or relating to Bagpuss, in the style of the programme Bagpuss!
Last week I saw a flyer for the
Brampton Live
festival that is happening locally. I saw on the front the word "Bagpuss" and wondered what it was all about. Was it a band that had called themselves after the saggy old cloth cat or was it actually something to do with the programme.
It turns out that it is the singers Sandra "Madeleine the Rag Doll" Kerr and John "Gabriel the Toad" Faulkener who will be performing songs from the show! I leapt up to tell Vince of my discovery and he said "You weren't supposed to see that it was going to be a surprise!" I told him he shouldn't have left the flyer on the coffee table in blatant view.
We're still hoping to go, I hope there are still tickets. Also how we'll get to Brampton on a Sunday I'm not sure... I don't know how good the bus timetable is. But here's hoping I'll get a slice of the music from Bagpuss.
We'll probably be the oldest people there unaccompanied by a child but I don't care!